DTC broker acquires interest in trade platform
June 1, 2011
I. Hennig & Co., the lead broker for the Diamond Trading Company (DTC), has acquired an equity interest in Verichannel, an online diamond trading platform and jewellery industry search engine.
Having opened for business in January this year, Verichannel showcases diamonds online within hours of the stones being graded, including a full PDF of the grading report. Trade members can then show their interest in stone, which Verichannel updates on a daily basis.

The company has established direct computer links with the primary grading laboratories including the GIA and IGI. Created by Jacques Voorhees, Verichannel's core services are currently restricted to trade-only.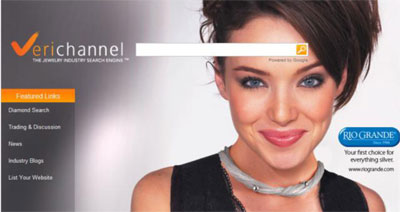 Verichannel markets itself as the Jewellery Industry Search Engine.
"Hennig worked closely with Verichannel during its research and development phase," said Arik Sela, managing director of Hennig. "We are impressed with the team Voorhees has brought together and their vision for the company, and we are enthusiastic to take part in the increasing development of the on-line business-to-business activity of the diamond industry."


Jacques Voorhees has described Hennig as an ideal partner for his venture. Speaking of the partnership, he said: "Their global infrastructure, unique position in the trade and broad industry expertise - particularly in the emerging markets of Asia - are a solid complement to our cutting-edge technology and e-business background. While the diamond industry has been moving online since the early eighties, the business is still based primarily on people, relationships, and trust. And probably always will be. These, of course, are Hennig's strengths."

Verichannel also boasts a widespread search function, and markets itself as the "Jewelry Industry Search Engine™", providing innovative online searches for finding both products and businesses in the diamond and jewellery markets.

The DTC uses Hennig as a channel of communication to its clients whilst brokers help clients by presenting their best case to the DTC. Brokers manage the process of doing business with the DTC and help clients put together applications on a Sight-by-Sight basis and also for their ITOs (Intention to Offer).
http://www.professionaljeweller.com/article-9476-dtc-broker-acquires-interest-in-trade-platform/