FOR IMMEDIATE RELEASE
Contact: Krista Olson +1 623 551 3338

VERICHANNEL PROVIDES GATEWAY TO CHINA DIAMOND MARKET
Panyu, China, — March 27, 2012 — - Verichannel, LLC officially launched today a strategic alliance with Worldmart*E to provide global diamond suppliers with an online gateway to the lucrative China market. A signing ceremony corresponded with the launch, and was attended by local officials and members of the diamond and jewelry industry from China, Hong Kong, India, Belgium and West Africa.
Worldmart*E supports a Chinese-language online B2B trading platform for the diamond and jewelry industry. Verichannel, the jewelry industry search engine, includes facilities for suppliers to list diamond inventory. Under the joint venture, diamond inventory listed on Verichannel automatically appears in the China market, in Chinese.
"We found that developing a China connection was of paramount concern to the diamond suppliers listing inventory on Verichannel," said Jacques Voorhees, Verichannel CEO. "The Chinese-language Worldmart*E fulfills that need."
"The importance of the China market is growing every year," noted Verichannel chairman Bill Boyajian, who also attended the signing ceremony. "We believe that strategic alliances such as this one, which uses information technology to create a bridge between China and the global diamond market, are an important part of that trend."
"We are excited to be working closely with Verichannel to ensure a steady supply of stones onto our trading platform," said Elsa Leung, CEO of Worldmart*E. "Nearly 200,000 diamonds are now flowing from the Verichannel database into Worldmart*E every day, from the major manufacturing centers in Antwerp, Ramat Gan, and Mumbai.". We are also honored to have joined forces with Jacques Voorhees who invented the concept of online diamond trading at Polygon; and Bill Boyajian the former CEO of GIA."
Companies interested in featuring their diamond inventory in the Worldmart*E platform may do so at no cost by contacting Verichannel at
About Worldmart*E
Worldmart*E is the online extension of the Worldmart organization set up in 2004 with the approval and full support of the Ministry of Commerce and the Guangzhou Government to serve gem and jewelry traders, manufacturers, and retailers throughout China and overseas. The Worldmart*E platform provides the diamond and jewelry industry worldwide with a dedicated one-stop solution along the whole business cycle, with online trading opportunities created and backed up with strong support in the areas of logistics, payment, custom clearance, and brokering services.
About Verichannel, LLC:
Verichannel is a private company launched in early 2011 by Polygon founder Jacques Voorhees, former GIA president Bill Boyajian, and I Hennig & Co., the leading international diamond broker for clients seeking supply from the Diamond Trading Company. Verichannel provides an environment to help jewelry industry retailers and suppliers "find and be found" on the Internet. Verichannel includes a database of loose diamonds listed by Sightholders and other major suppliers world-wide, a Daily Diamond ReportTM of stones freshly graded by GIA, AGS, IGI and HRD labs, a Google-powered system for searching jewelry industry websites, and other resources. Visit gemfling.com.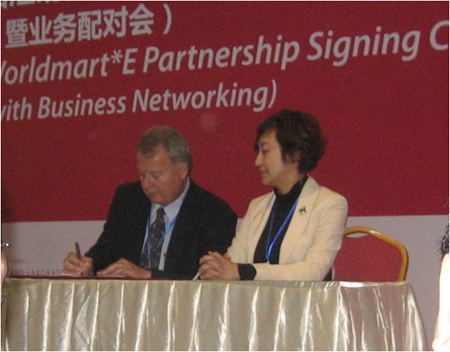 Jacques Voorhees, CEO of Verichannel, and Elsa Leung, CEO of Worldmart*E, sign joint venture agreement in Panyu, China